Wow! it's been a whole year since our last blog thanks to many great customers from referrals, Google and TripAdvisor. 2016 was incredibly busy, it's a good problem to have so much work that we don't have time to do blog posts to generate more business, however we still we still feel bad about keeping family and friends out of the loop of what we've been up to. So here's a quick update on the Nebbiolo Vineyard we planted last year.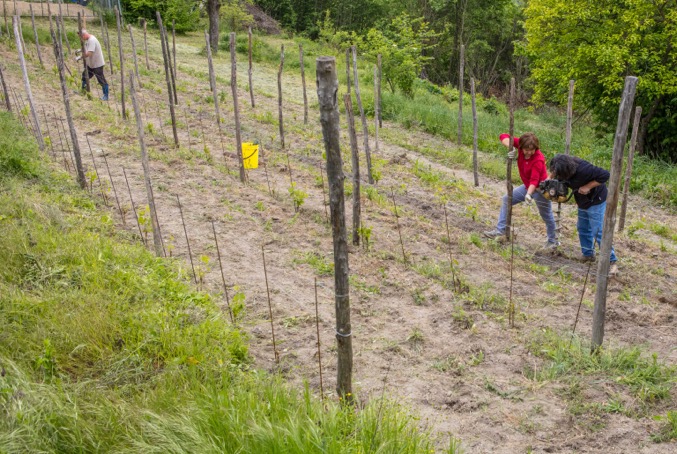 In the second year the vines have grown enough to need support wires with lots and lots of help from Mariagrazia and Valter from Icardi. Old cool Poles, training wires and metal stakes for each vine were installed last weekend.
As the wax from the grafting at the nursery wears away the vines are growing fast therefor they need to be tied to the stakes for this year and next then they will be tall enough to be tied to the suport wires
Leslie and our friend Massi from
Italy Unfiltered
prepare dough for mini burger buns for for the infamas pasquetta party
With easter being late this year the weather was sunny and warm, no rain for once.
Panna Cotta senza mani (without hands) eating contest
After years of encouragement we finally planted our own baby Nebbiolo vineyard. Step 1 of many steps was turning over the soil
Step 2 our friend valter lays out the rows with string and poles
The vine are readied for planting by having their roots cut off this is done to force the new roots to grow down searching for water.
Using a lay out pole the vines are planted in very straight rows.
Valter oversees The last of the 200 vines being planted.
Over the next 4 years while we wait for the vines to mature we will have lots of weeding to do along with shopping for a cute little 300 liter tank to make our wine in.
we are very lucky in our line of work. Interesting people from all over the world travel to the Langhe and share part of their lives with us. They're Wine enthusiast/Geeks,Foodies,Photographers and Travelers. Last fall a couple from NewYork had all 4 of those passions wrapped up together, they share their travels on Jennifer's blog called
tinyurbankitchen
where she recently posted some very kind words about us. Her blog along with her i
nstagram
feed is a must follow for foodie,wine,photo & travel buffs
Robert had a blast shooting fall colors with them
Chasing the Light at Sunset