2018 seemed to zip by even faster than 2017. 2018 was off to a rough start with a lot of hail in the spring but the weather turned around so the 2018 vintage not only ended up being very good in quality but in a rare instance quantity is also up. Some producers were saying last fall that their tanks were bursting with wine
🍷
.
We started 2019 with our first tour on Jan 4, thankfully they were from Kiev so the chilly
🥶
weather was no problem for them. We are currently knee deep with the flood of emails we receive every year for the new season. Below
are a few photos of our travels this past year as you can see we spent a lot of time in the mountains to cool off in July and August and do some hiking and photography.
Aperitivo in the Stura valley
We finally got to sleep in a Botte (cask)
Hiking near Pontechianale
Hiking and aperitivo in the Dolomiti Alps in August
Cooling down our Bubbles (Billecart-Salmon) in a glacier stream
2017 was a very busy year (in fact we missed our 10 year anniversary of living in Italy) filled with lots of traveling. We had some repeat customers who requested to see and learn about other wine regions in Italy some well know others not as much so here are a few photos of our wine travels this past year
Verona home of Amarone, Valpolicella Ripasso, Soave, Bardolino and ……..Starting in the late 90's we travelled to Verona every year to attend VinItaly.
Aosta home of Petit Rouge, Prié Blanc and one of the highest vineyards in the world making sparkling wine at 1187m (3,895ft).
Riding up the mountain to our favorite place in the Dolomiti (Dolomites) Collalbo.
Dolomites, Home of Kerner, one of our favorite white varietials in Alto Adige.
Venice, almost home to Prosecco, a very wine friendly city.
Cinque Terre Home to the DOC wine called "Cinque Terre DOP" a white wine made from a blend of Uva Bosco, Albarola and Vermentino.
After 10 years as a one car family we now have a car for photography tours that can get Robert and his customers into the vineyards year round.
Spent three lovely nights in Bergamo, the concert Messa di Requiem at the Basilica of Santa Maria Maggiore
Front row seats thanks to our friends who know the conductor Corrado Rovaris, a very nice surprise after waiting outside for good seats.
We took the long way home from Bergamo by passing through Torino just in time for the first snow of the season.
After Torino we came home to vineyards covered in snow. Very good for the vines.
Wow! it's been a whole year since our last blog thanks to many great customers from referrals, Google and TripAdvisor. 2016 was incredibly busy, it's a good problem to have so much work that we don't have time to do blog posts to generate more business, however we still we still feel bad about keeping family and friends out of the loop of what we've been up to. So here's a quick update on the Nebbiolo Vineyard we planted last year.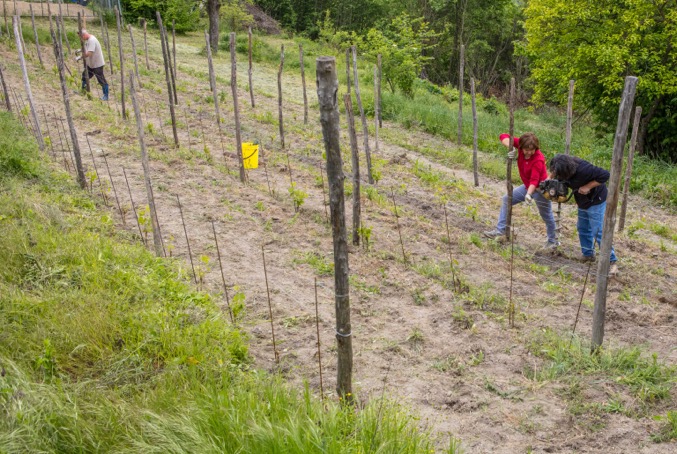 In the second year the vines have grown enough to need support wires with lots and lots of help from Mariagrazia and Valter from Icardi. Old cool Poles, training wires and metal stakes for each vine were installed last weekend.
As the wax from the grafting at the nursery wears away the vines are growing fast therefor they need to be tied to the stakes for this year and next then they will be tall enough to be tied to the suport wires
Leslie and our friend Massi from
Italy Unfiltered
prepare dough for mini burger buns for for the infamas pasquetta party
With easter being late this year the weather was sunny and warm, no rain for once.
Panna Cotta senza mani (without hands) eating contest