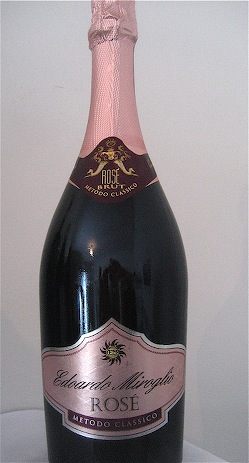 What can be more interesting than trying new bubbles
from off the radar wine regions.
Recently we tried a wine from Bulgaria.
Edoardo Miroglio
Brut Rose
Metodo Classico 2006
It appears to be vintage, the label says 2006, but we are not
clear on Bulgarian wine laws.
It was disgorged in September 2008.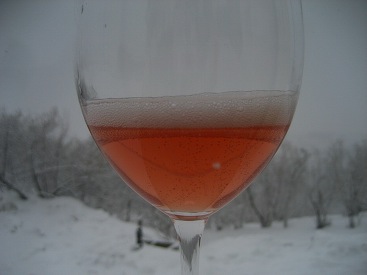 We poured some and gave it a try. Light salmon in color with a fine bead
of bubbles. Looks promising. We try a taste. Very dry and crisp with
lots of cherries and fresh cranberries. Balanced with a nice yeast component.
Fairly strong enjoyable yeasty finish. We approve.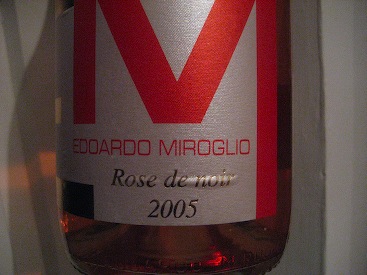 A few days later we tried their rose made from Pinot Noir even though
it was a 2005 still showed lot of fruit. Makes us want to try a current vintage.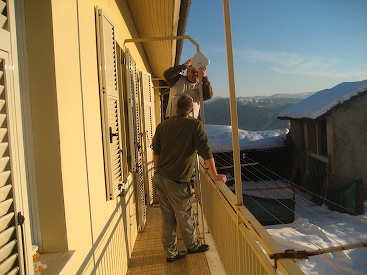 After 1 year, 3 months and 13 days....we finally have internet at home,
but who's counting.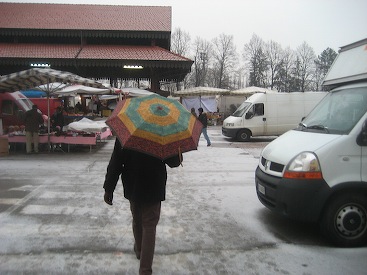 Like the rest of the world, it's been a strange winter here too.
Lots of snow and colder than usual. We've noticed that the locals
deal with snow differently than Minnesotans. They treat it more like
rain and use umbrellas!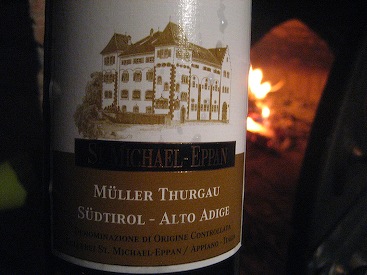 We found another new great wine at pizza night(didn't we just hear
somewhere that
Italians
don't drink wine with pizzas? that's totally untrue!)
Anyway, the wine was great and it was refreshing to drink outside of
Piedmont(not that we don't love the wines).
Here's a link to the wine's website:
http://www.stmichael.it/uk/default.asp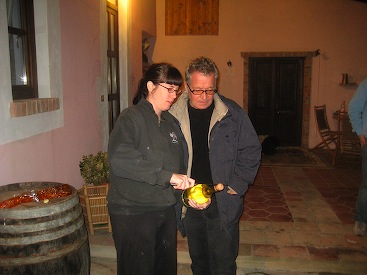 Pizza night wouldn't be complete without Chiaro showing off the finer
art of sciabolaing to an eager new student, this time, our friend Richard.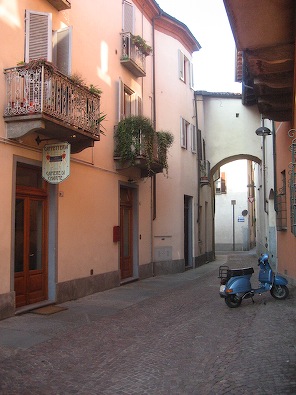 You sure can't judge a wine bar by it's door. We have been walking
by this place for years and finally gave it a try, once inside we found the
perfect definition of a vineria (think wine bar mixed with coffee shop,
neither of which exists separately in Italy). The place is great and the staff very
friendly, it's called Casa della Torre. It is located on a side street off the
main walking street in Alba. From this lesson we have decided to give
the other wine bars we've been walking by a chance and do little "mini" reviews
on all the wine bars in Alba(This could take awhile, there are ALOT of wine bars).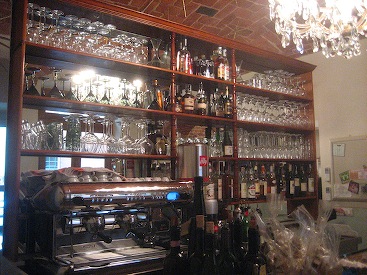 A back bar to be proud of with great stemware along with very serious
coffee. By definition a vineria is not a restaurant, however you wont go
hungry.
With every glass of wine you get a fancy plate of snacks, always delicious
but varies day to day, hour to hour. The wine by the glass is unusual too,
most vinerias in the area only serve local wine, but this place always has some wine
from someplace else, like Chile, Spain or other regions in Italy.
This is great because we go a little crazy drinking barbera and nebbbiolo
everyday, even though we love it. It also has ample choices for "bollicine" bubbles.
Bubbles are the most popular aperitivo in Piedmont wine bars. You don't see
very much Prosecco but alot of Franciacorta, Champagne and of course, locally
produced bubbles which most are quite good.