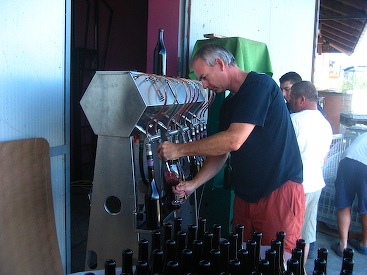 Sometimes Robert can't wait for the wine to be bottled. So he grabs a
glass and helps himself to some nebbiolo.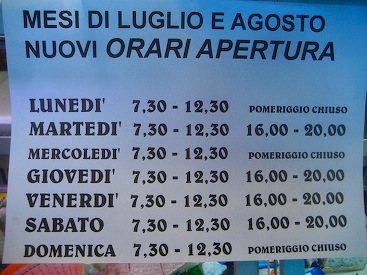 Our local "convenience " store just expanded there hours now we only have
to remember the 3 days we can't get stuff after 12:30. This is great, open 51 hours
per week, only 117 more hours and we will have our fist 24/7 store in Piemonte.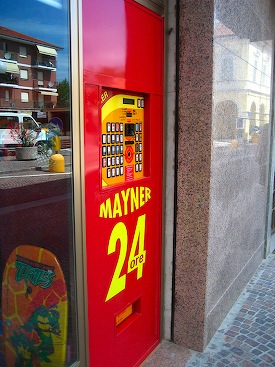 The only thing 24 hour in Italy is the cigarette vending
machines.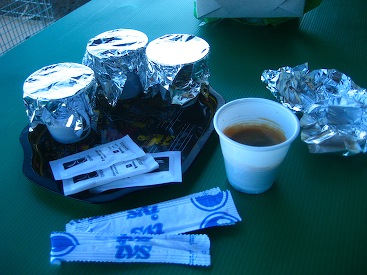 This is the closest thing to coffee "to go" in Italy and is only done when
working the bottling line.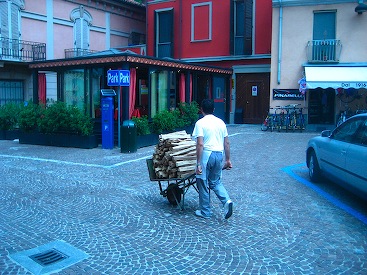 When they say wood fired pizza they mean it !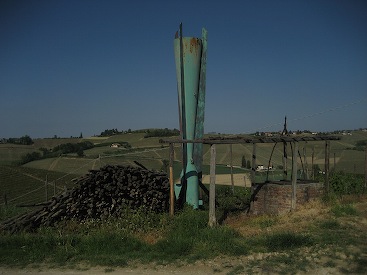 Even though it has been sunny every day for 2 months we do get a
few small and short storms rolling in. That's when the Guns of Barbaresco
start shooting sound waves in to the sky with hopes of breaking up any
hail or at least making it smaller they sound like a civil war canon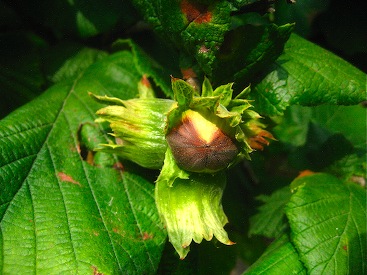 Hazel nut harvest is coming soon usually beginning in mid August
and ending just in time to start harvesting grapes
Robert helping Lorenzo (from cantina Vigin) spray for weeds in the
Montersino vineyard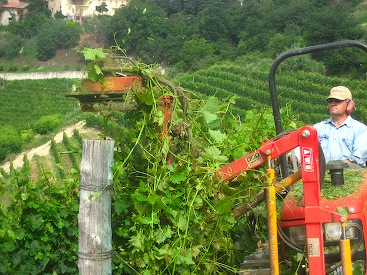 Most of the work in late july and early August is trimming the vines and
spraying for Oidium (Powdery mildew)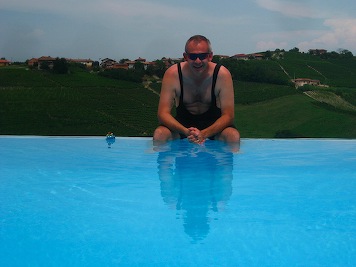 All the gas station's went on strike and we didn't get the memo.
Our car was on empty so we biked to our friend's house in Neive
for a pool day.
(above: Robert trying to get rid of his biker tan).
Our friend Richard cooks us a pool side bbq dinner.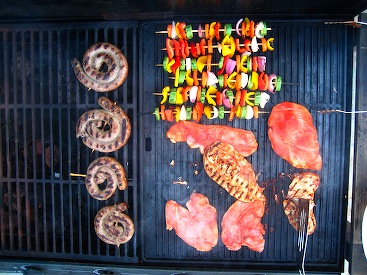 Look's just like a midwest BBQ(bbq chicken with Chiaro's homemade
sauce, sausage from our favorite butcher, and veggie kebabs).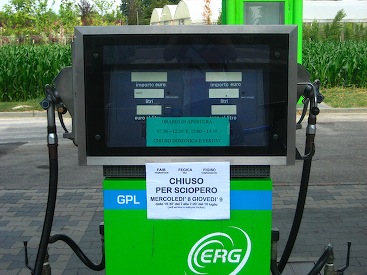 New word of the week sciopero (strike)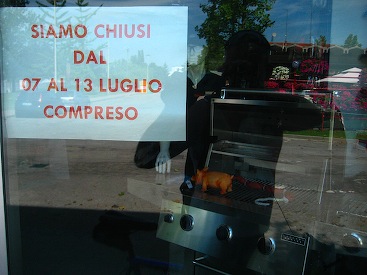 The fist hardware store Robert biked to for a gas can was closed for
fiera (family holiday). Finally found a gas can but the gas stations didn't
open again for another 2 days! We didn't know about the strike and were
stuck for 3 days(a mini summer vacation).