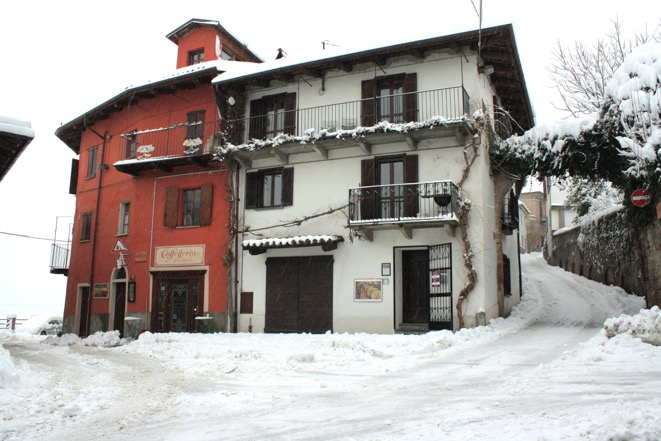 After a very dry winter so far, we awoke to 12 +" of snow Sunday morning. Local kids were using the street next to our
house as a sliding hil,l good thing it's a one way coming down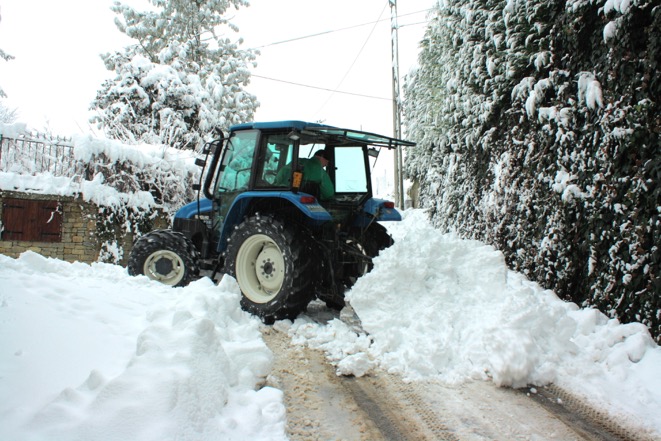 Growing up in Minnesota we are used to seeing lots of snow removal equipment, however, after 3 years here
we have never seen a city/county snow plow. All the streets are cleared by local growers (farmers) with there
own tractors, theses guy's do a great job. Above is Giulio from Fattoria San Giuliano, a winery just down the
street from us.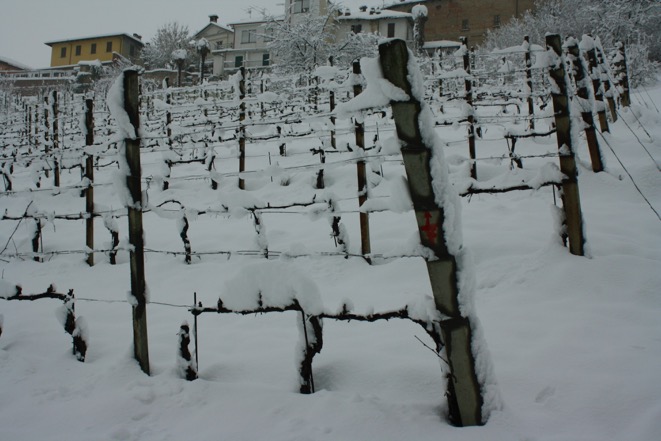 Snow can be a big pain in the butt in hilltop towns with narrow streets with nowhere to put all the snow.
However, snow is very good for the grapevines. With all the hills here in the Langhe, rain turns into run off
very quickly whereas snow melts slowly allowing it to seep into the soil slowly.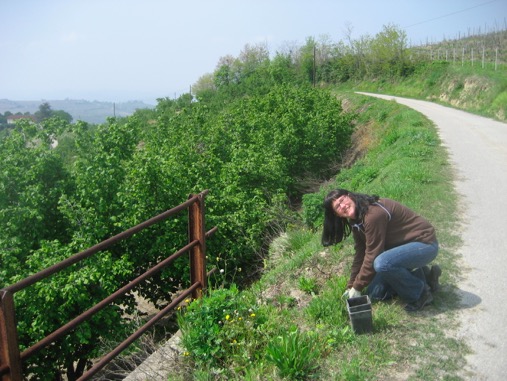 When we first moved to "cru Montersino" just outside of Treiso, we were very
curious as to why there were hazelnut trees and not vines in a small section of
the cru. To us, this spot seemed like a great place for nebbiolo, which grown here
would qualify it to be labeled as Barbaresco.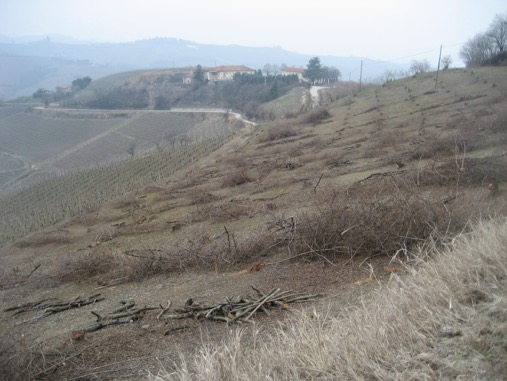 After 18 months of wondering, in March of 2009 we woke up to chainsaws
cutting down the hazelnut trees. We can finally see are home from the road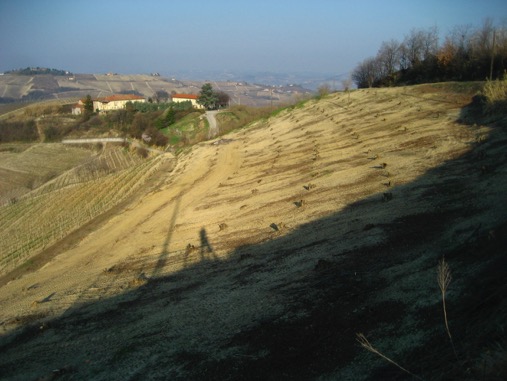 Striped clean we soon learned after talking to the locals that Cru Montersino in
the Barbaresco zone was about to get a little larger. A long and very costly
project, only to be done by someone with lots of patience. In this case the
winery of Orlando Abrigo from Treiso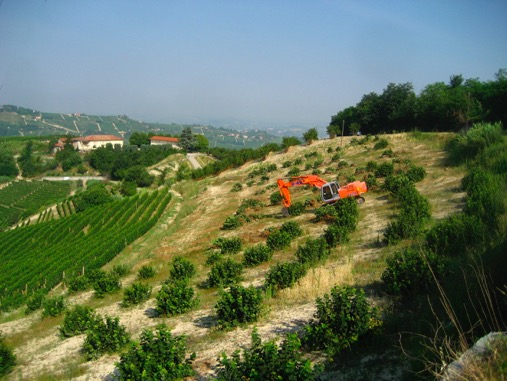 The first big step is digging up all the old tree roots. It is incredible the
investment that goes into such a project, keeping in mind the first bottle of
wine is at least 5 to 6 years away. Normally the first vintage or two is usually
released as Nebbiolo d'Alba, that means the first bottle of Barbaresco can
be up to 8 years away or longer after starting this project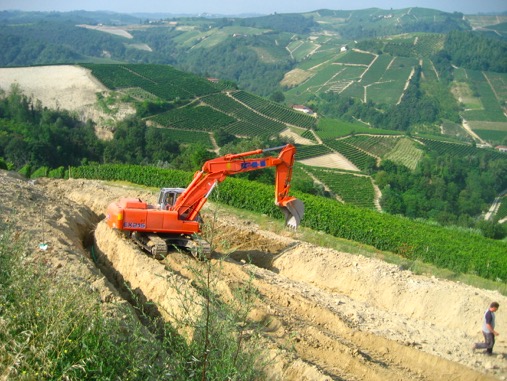 Irrigation is not allowed in Italy therefor the next step is digging hundreds
of feet of trenching used for distributing and removing rain water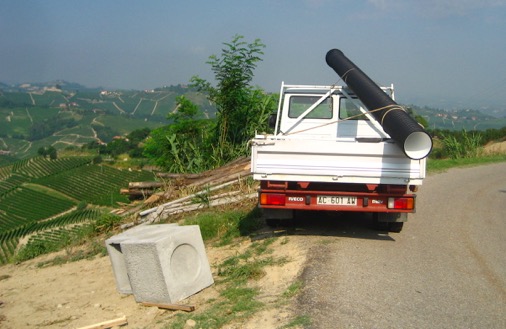 We lost count at 15 of how many of these rigid pipes were installed along
With cement distributing boxes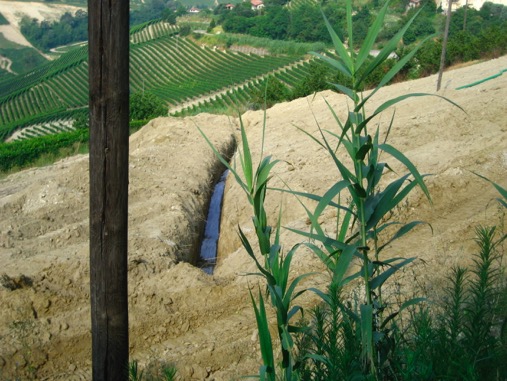 The trenches were from 4 to 8 feet deep (very OSHA approved working conditions)
After the trenching gravel was used for back filling. It appears fiat makes just
about everything one would need in Italy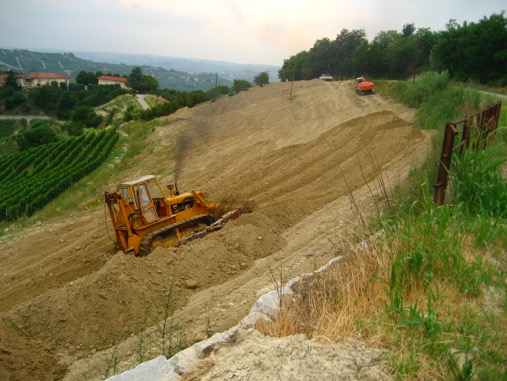 After back filling the soil was turned over followed by final grading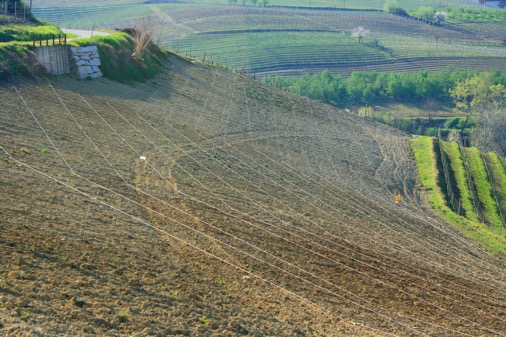 Now the fun starts using GPS guided lasers to achieve the best positioning
for the vines. Strings are staked out to form the vineyard's final layout for
the hundreds of poles needed to support the training wires.
The poles are pushed in to the ground one at a time, a very slow and tedious Job.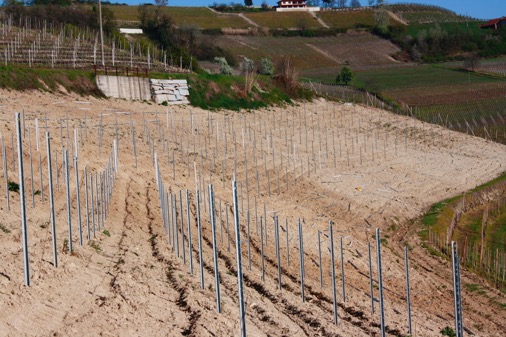 although
After 7 months it is starting to look like a vineyard, although one without vines
and row end posts yet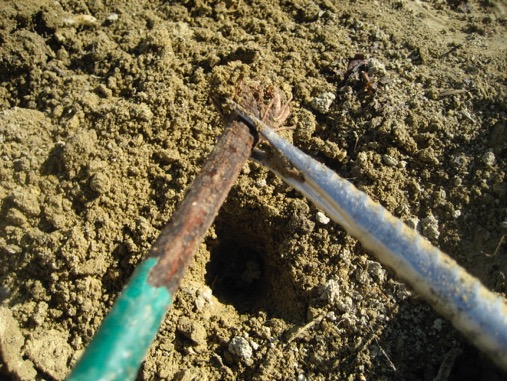 The first of some 3,000+ vines of nebbiolo is planted.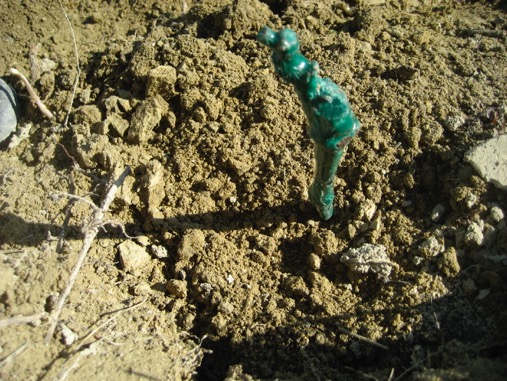 After planting, all that is exposed is a few inches of wax covered vine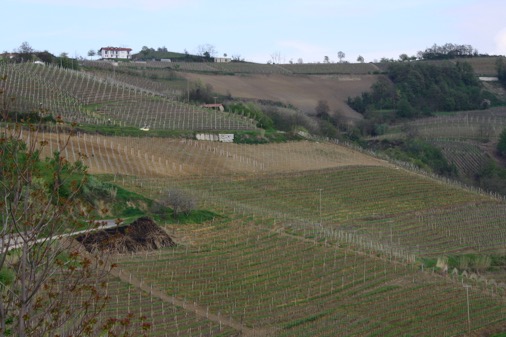 Now that the trees have been replaced by a new vineyard, Cru Montersino
looks complete. We will let you all know when we try our first wine from this new vineyard.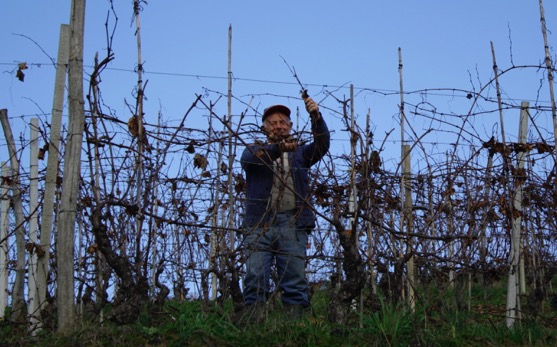 It's the time of the year when the growers are thankful for the lack of snow, which can make winter pruning a
lot more difficult, with temps in the high 30's to low 40's, one would think gloves and an heavier jacket would be needed.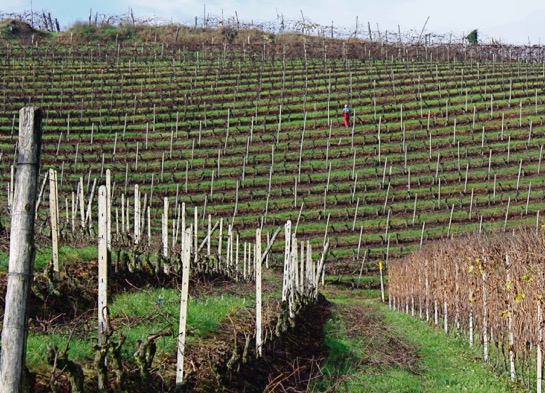 This is very labor intensive work, always done by hand, after pruning, a game of tug-o-war is "played to remove
all the vine material then it is laid in the center of the rows to be mulched up by tractors.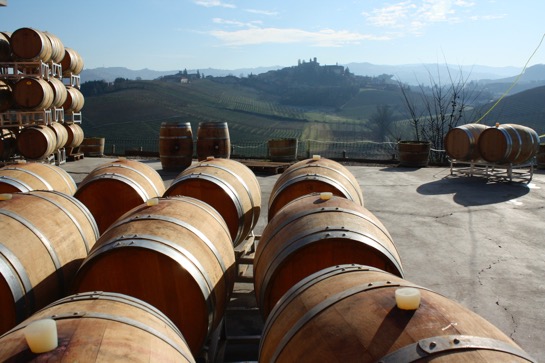 Meanwhile, back at the cantina, winter means time to rack wine. This means transfering all the wine in barrels to large s.s. tanks
then taking the barrels outside for steam cleaning after which the barrel stacks are rebuilt and refilled with wine, not bad
work on a sunny day here at the Fontanabianca winery in Neive. A great view of our new town in the background, Neive alto.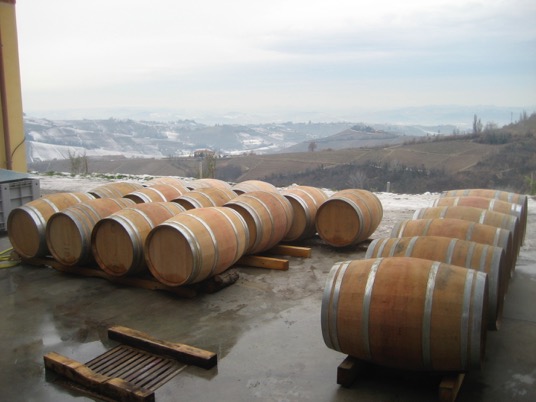 However this work can be miserable when your cold and wet and without any sunshine to warm you up.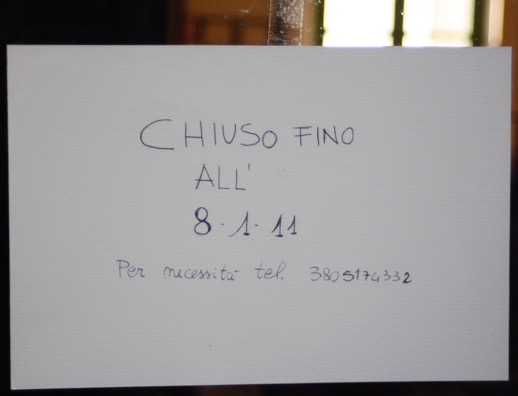 If you are a shop keeper rather than a winemaker, you just close up shop for a few weeks and go south
to warm up. We have turned into weather wimps, back in Minnesota we would be very hapy with lows
of 30 and high's in the 40's, but now we are freezing in these temperatures and all bundled up like it
minus 20 F.