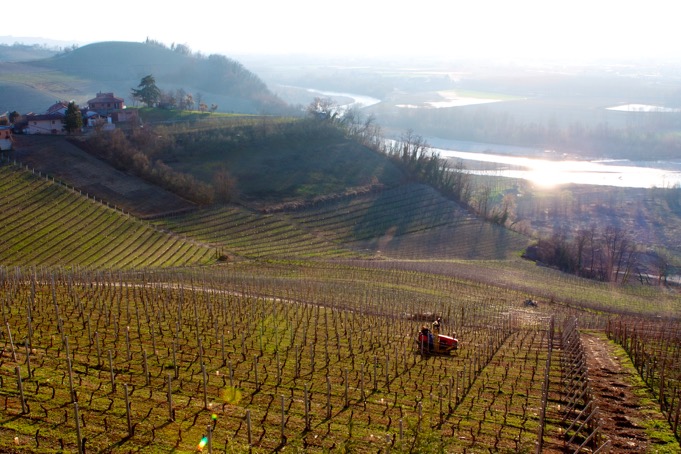 With the Tanaro River in the background, we were enjoying a glass of wine at Boffa winery while they were working in there vineyard repairing poles.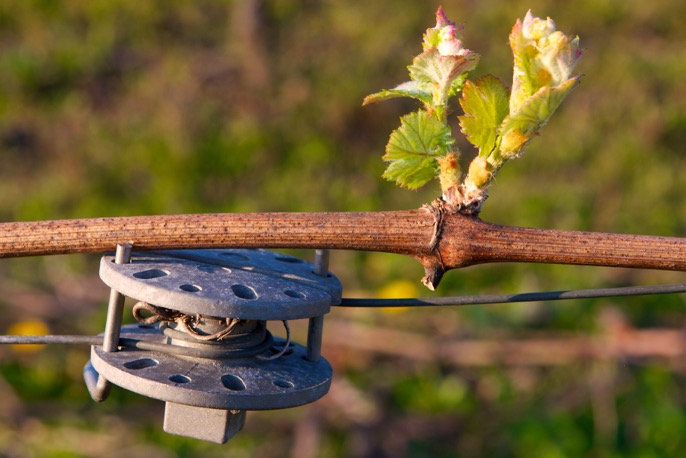 In the Bricco San Giuliano vineyard of Pasquale Pelissero here in Neive, bud break is full speed ahead on these nebbiolo vines. It is the beginning of Barbaresco Bricco San Giuliano 2012.
With all this spring going on around us, it's time to move our daily aperitivo outside. Robert is sitting outside at Al Nido della Cinciallegra with Cotta' and her friend Daisy
.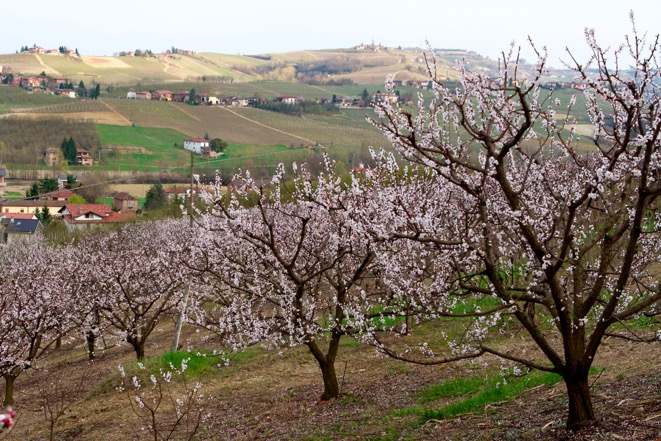 The fruit trees are starting to bloom. The landscape is spotted with shades of pink and white blossoms.
Above is the first curry club meeting with our English friends of 2012. We love the cuisine of Piedmont, but we need an occasional break of something ethic or different. This time it is Indian but no beer this time only local white wines.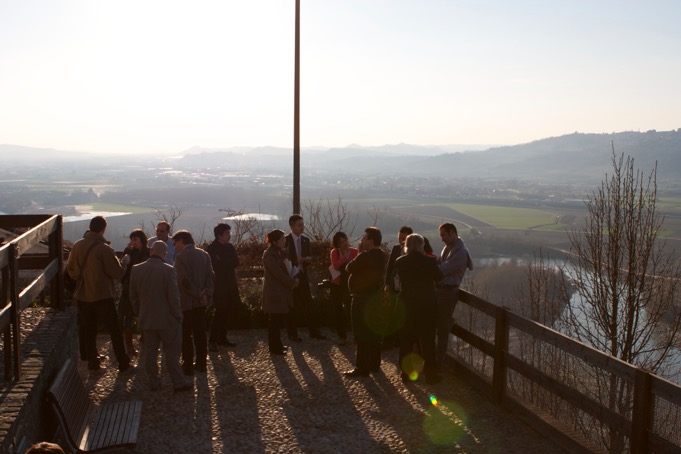 While touring the village of Barbaresco we were very lucky to stumble upon the
UNESCO
committee who are studying the Langhe sub-region of Piemonte for possibly adding the area to this well known list of cultural and natural sites throughout the world. The lucky part was our friend (who must remain name less) was helping with the group and had keys to the elevator, after countless trips to this famous tower we finely got to ride up to the cat walk and see the inside while still under renovation, a big treat for us.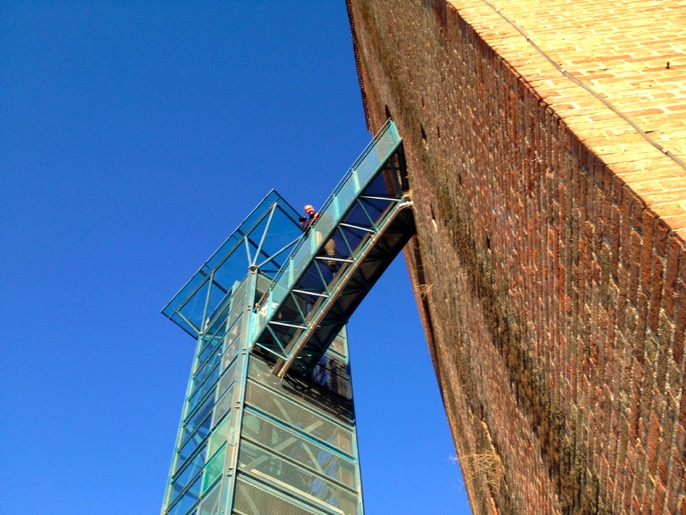 One of our bragging rights photos
On the cat walk looking north over the Tanaro River that separates the Roero wine region on the left side from the Barbaresco region on the right side. In a year or so when the inside elevator is complete this will be even more of a must see attraction in the area.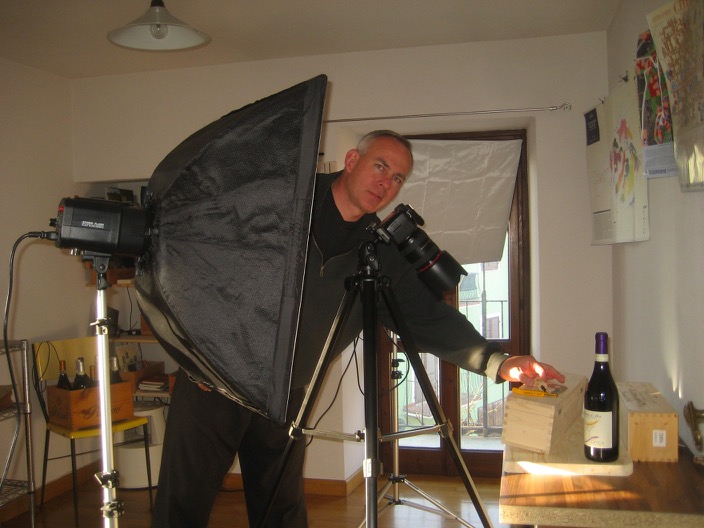 As spring approaches we are hurrying to finish as many of our winter work/projects as possible. Robert has been shooting a ton of photos (in his new studio) for new website clients along with updating bottle shots for existing winery sites. Leslie has completed two more original paintings that have been ship to far corners of the world.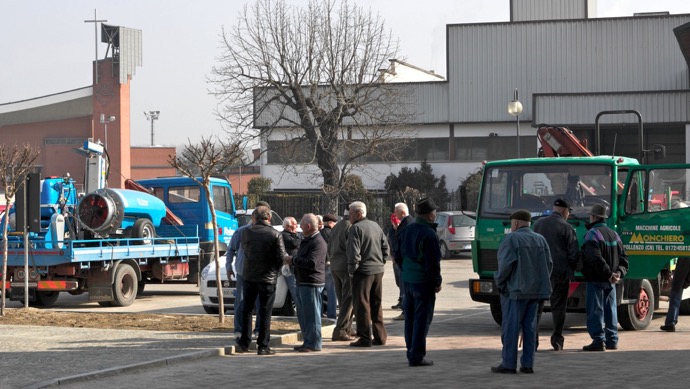 A sure sign of spring for us is when equipment vendors start showing up at our local Wednesday market. The growers hang out for a few hours chatting about which tractor or accessory is best for a particular job.
From chainsaws, cover crop movers (the grass between the row of vines) to articulated tractors, it all is displayed at markets around the region where as most of these vendors don't have a retail showroom.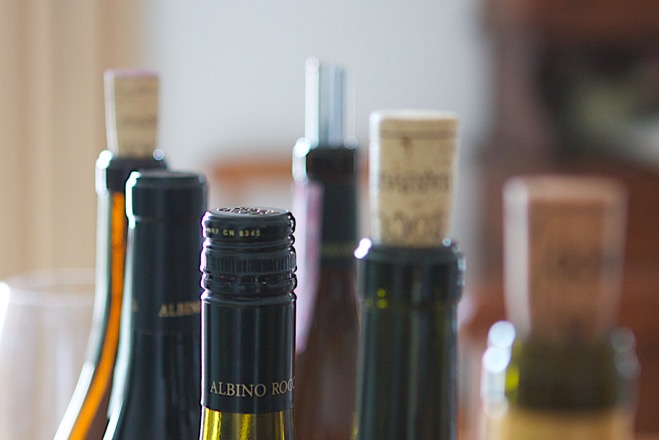 On a completely different subject, at a recent tasting with clients we came across our first sighting of a screw cap closer in the Barbaresco zone. It should be noted that by DOCG regulations only very high quality extra long natural cork is allowed to be used on Barolo, Barbaresco, Brunello , etc.
Here the
Albino Rocca
winery is using them for there stainless steel aged Barbera and there white wines. We feel this is a change in the right direction.