04/03/09
We first met Giuseppe last fall at
Eataly in Torino.
He was pouring his
white wines, Chardonnay and Sauvignon Blanc, in the wine shop for
the customers to taste. We liked both of the Whites alot and bought some
that day. Last Friday, we finally made it to the winery and got to taste
all the wines and see the cellar. The winery has been in the family
for many generations and is today run by Giuseppe and his family.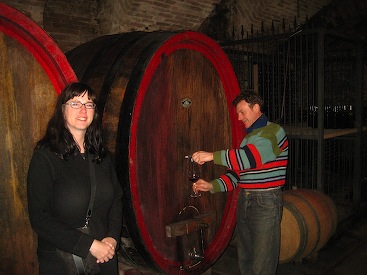 We first tried some tried some young Barbera d'Asti right from the Botte
then finished our tasting upstairs where it was warmer.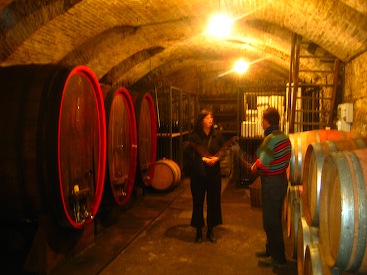 Giuseppe's wines are a great example of a gem of winery, along with it's vineyards,
situated outside of the well known zones of Barbaresco and Barolo.
He pours alot of energy and unique ideas into varietals like
Barbera, Syrah, Cabernet Sauvingnon and Chardonnay.
We have found that wineries outside of the Langhe,
when they get it right, like here at
Sciorio
, the wines are a
tremendous value for the quality. We enjoyed all the wines, but
especially liked the Barbera d'Asti and the Monferrato Rosso(Syrah).
Sciorio does a private label for a restaurant in Portland, OR called
Alba Osteria & Enoteca
. A place we are sure to check out next time we are
in Portland. Giuseppe said the food is very authentic Piemontese
which is a rare find in the US.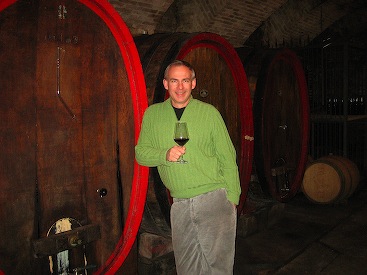 The cellar is very beautiful and will definitely be on Leslie's list to paint