Piedmont's newest expat
Meet Valerie Quintanilla, Piedmont's newest expat. Not to brag, but Travel Langhe did her first Langhe tour back in 2011. Since she was so smitten with the region we also took it upon ourselves to introduce her to her now-boyfriend who works for a Barolo producer. It only took us 2 years and eight months to broker her move. A marketing gal by trade, a wine lover, and an avid outdoorsy-type (she's got those damn Colorado lungs, I can't hear a thing when we're riding up a hill), she's taking Piedmont by storm. Follow her adventures on her blog,
www.GirlsGottaDrink.com,
Twitter, and Instagram. Benvenuti a Piemonte, Valerie!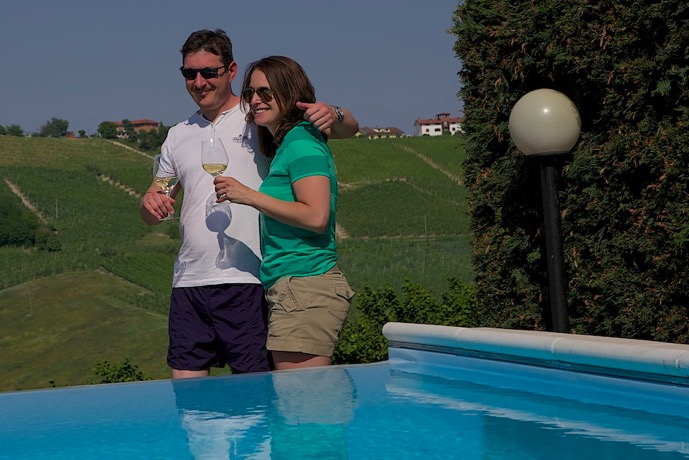 The 10 Reasons I Fell in Love with Piedmont
By Valerie Quintanilla


Once upon a time a girl named Valerie lived in a beautiful place called Denver, Colo. (that's me!). Valerie loved wine and travel. One year she found herself in a magical place called Piedmont. With the elegant wines, the rich culture, and the beautiful landscapes of vineyards, foothills, and the Alps it was love at first sight. She announced, "I'm going to live here one day."

Fairy tales aside, I got lucky. I mean, real lucky. A few years ago, I was traveling a crap ton for work, built up a healthy stock of frequent flyer miles and hotel points (pretty sure I've stayed in about 80% of Italy's Hiltons), so it was travel time. LUCKY!

One Italy trip I found a travel buddy who wanted to drive the boot. Piedmont became a destination on our insane drive: Two weeks. Seven stops. I repeat: Insane. But still, LUCKY!

We booked a day with Travel Langhe and I was completely enamored. When I got back to Coloardo I said, "I'm moving to Piedmont. I don't know when. I don't know how. But one day I'm moving to Piedmont." The next year I booked a week in Piedmont. On the first day I met a boy. You know how they say it happens when you least expect it? Um, yeah. By week's end I'd cancelled my night in Bologna and to stay an extra day in Piedmont. Nine months later I had a one-way ticket. Yep, LUCKY!

So, here I am. Less than a year later, living in a stones throw from Piazza Savona in Alba, prepping for a week-long holiday to some France and Spain wine regions. I mean, it doesn't suck to get LUCKY!

Why did I fall in love with Piedmont? Here's my Top 10:

10. I'm in Italy! I fell in love with Italy during a study abroad program in college. Venice was my first Italian love. When I started doing regular vacations to Italy people said, "Why do you keep going back to the same place?" It laughed because I wasn't going back to the same place. I was getting to know Italy, south, north, east, west, and central. The food, the wines, and the culture varies across the boot. I don't want to miss an inch - and now…well, as we've discussed: I'm LUCKY!

9. Farmhouses: We live in the big bad city *she smirks* of Alba, but once you get into the country-side, farmhouses dot the landscape. They are everything: beautiful, colorful, airy, kitsch, fun, elegant, cozy, but, most of all, they are home. Every one is different with the family's own unique personality weaved in. I can't wait till we are ready to turn one into our home. Okay, don't tell The Boy, but I have an "Italy Farmhouses" Pinterest board to keep my ideas organized.

8. The Slow Life: Sigh. I mean, really - I actually get to just sigh. I remember my first trip here, sitting at lunch with the most breathtaking views and a sense of calm just washed over me. A calm that I'd never really experienced before. The place truly is magical, and taking things slowly helps to appreciate it.

7. The Outdoors: It's a natural outdoor playground that ain't exactly tough on the eyes. As a Colorado girl I run, hike, and could walk pretty much everywhere. Since the move I invested in a bike. I love exploring the country-side on two-wheels. And, those hills, well since a girl's gotta drink, a girl's gotta earn it!

6. Food: I remember my first traditional lunch with an intro to carne cruda (raw beef, olive oil, salt - sometimes topped with truffle shavings and / or garlic). I said, "Um, I'll try it, but I probably won't eat much." Yeah, pretty much the entire plate ended up in my tummy! The food here is heavenly: carne cruda, white truffle, russian salad, Bra sausage, risotto, and more. Favorite eateries: Vinoteca Centro Storico (Serralunga d'Alba), Terrezo (Castiliogne Fallito), Camino (pizza!),

5. Cooking: I love to cook. Fresh fruits, veggies, breads, high quality meats, cheeses, and wine for pairing - I'm in heaven. One of my favorite adventures during my Piedmont travels was helping Leslie prepare a lunch for the workers at Pasquale Pelissero as they harvested Favorita. We roasted chicken, potatoes, prepared fresh salad, and I tasted the producer's wines as we worked.

4. Nebbiolo: Langhe Nebbiolo, Barbaresco, Barolo, what more do you need in life? I'm amazed with every glass how such a tannic grape can be bottled into such an elegantly balanced potion. It's a beautiful thing.

3. My Thirst for Wine - Knowledge! I consider wine my hobby. The fermented grape is a lifelong study. From soil to weather conditions, growing methods to wine making techniques, and on and on, it fascinates me. The more I learn, the more I realize how little I know about wine. I love being humbled that way.

2. Aperitivo: Italy's answer to happy hour (we actually probably stole it). I love aperitivo time - mostly because it pretty much runs all day. It's super simple and anyone can master it: pick your favorite enoteca, bar, or cafe, order a glass of wine, nibble on your plate of food (they always bring a plate of food. ALWAYS.), relax. Repeat as necesasry. Favorite aperitivo stops: Brasilera (in Alba, free wi-fi!), Vine Cafe (also Alba, also free WiFi), Cincilegra (Neive)

1. I Met a Boy…He loves wine, loves to experience it, explore it, and share it. I'm one lucky, lucky girl. First, I fell in love with the region. Then, I fell in love with him.

Now, I'd say that's pretty LUCKY. And, a big GRAZIE MILLE to Robert and Leslie for the amazing intro to the Langhe, the intro to The Boy, and helping me adjust to my new life. Benvenuti a Piemonte!

Follow my Langhe adventures at GirlsGottaDrink.com - if you're in the region, hit me up - aperitivo, a run, bike ride, whateves. I'm always up for making friends!